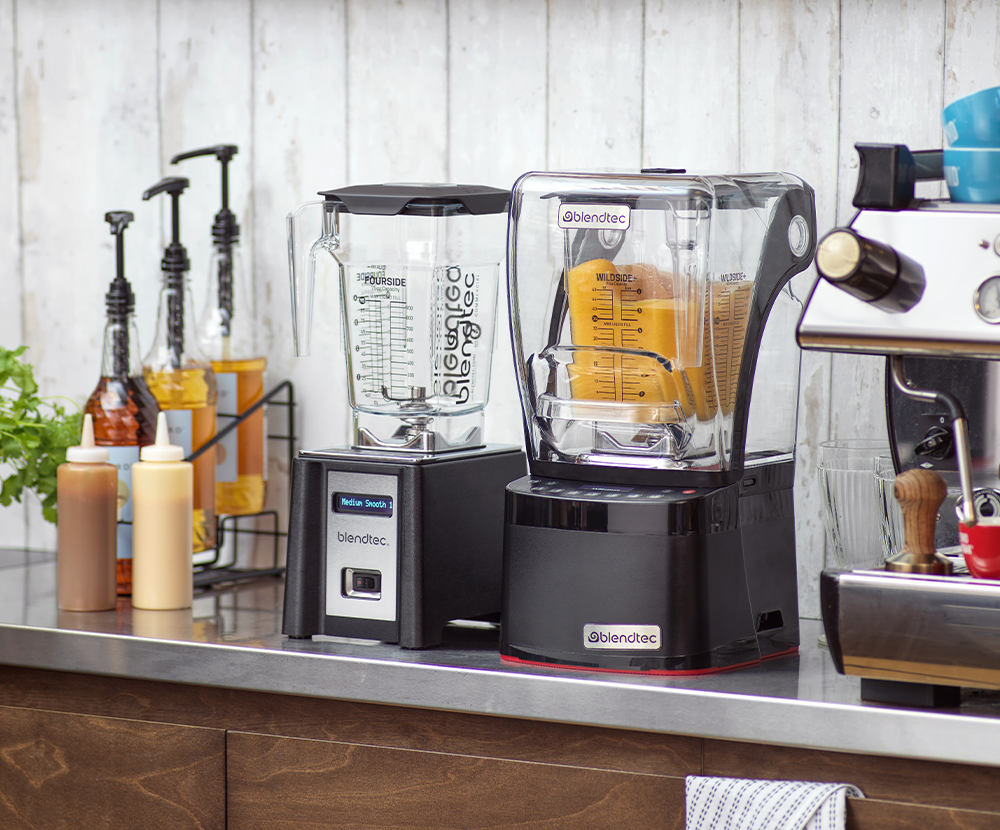 BLENDTEC
Blendtec produce the best commercial blenders and we are proud to be their trusted partner in the UK. Importing, servicing and marketing a collection of blenders, jars and accessories to a wide range of customers through a relationship that spans over 18 years.
Visit Site
Choose the Right Blender for Your Business
Designed for the high volume of ice blended drinks they are built to meet the unique needs of the commercial customer. Each feature delivers effortless operation and is designed to reduce overall cost.
All Blendtec blenders have pre-programmed variable speed auto shut off drinks cycles that ensure consistently blended drinks every time. With models to suit all requirements, and budgets, we can help you find the perfect Blendtec blender for your business.
Choosing the right blender for your business is important as they can be a significant investment but the return in sales of blended drinks is well worth it.
CONNOISSEUR 825
The Connoisseur 825 boasts industry-leading power and a wide range of state-of-the-art features designed to ensure speed, consistency, and quality with each and every order. This blender also includes an advanced sound enclosure to reduce blending noise by around 50%.
CONNOISSEUR 825 SPACESAVER
The Connoisseur 825 SpaceSaver is a workhorse built with longevity in mind. It's powerful and durable enough to stand up to heavy daily use, making it perfect for high-volume shops. With the same motor and programmes as the Connoisseur, the SpaceSaver does just that by having a smaller footprint, and comes without the sound enclosure, making it more suitable to back bars or where workspace is limited.
STEALTH 885
The Stealth 885 combines durability, power and a wealth of exciting features. Simply put, it's the quietest and most advanced commercial blender on the planet, with an easy to clean tactile touch pad. The Stealth 885 features an advanced sound enclosure reducing blending noise by around 80%.
STEALTH NBS 895
The Stealth 895 NBS combines durability, power, a tactile touch pad, and sound enclosure with innovative in-cup blending technology. Saving time, resource and money, this is the perfect blender for takeaway, mobile sites or sites with limited access to water.
EZ 600
The EZ 600 is the ideal solution for businesses that want to launch a basic drink programme. The EZ 600 provides entry-level pricing without compromising the power and quality Blendtec is famous for.
---
WEEE Accredited
BTB are now confirmed as registered producers for the WEEE Regulations. Meaning we are a business that manufactures, imports or rebrands electrical or electronic equipment in the UK, and so finance the collection, treatment and recovery of WEEE. Our unique number is: WEE/AE4449YX
To learn more about WEEE, please click here
See below for a list of models available in the UK and warranty information
Stealth 875/885/895 NBS – One year parts and labour, second and third year parts only
Connoisseur 825/ Connoisseur 825 Spacesaver – One year parts and labour, second and third year parts only
EZ 600/Chef 600 – One year parts and labour warranty
Blendtec commercial jars (standard, yellow, pink, blue, Wildside +, Twister, Cold Foam) – One year
Rapid Rinser – One year
For more maintenance and tips click here.